Shoulder Arthroscopy Surgeon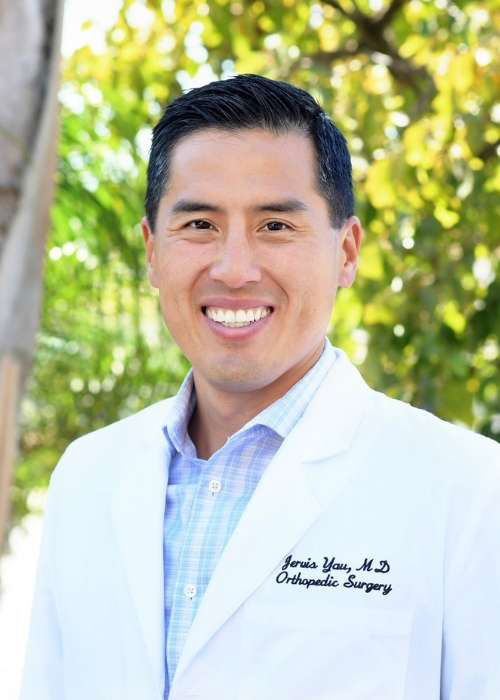 Are you an athlete who participates in sports that involve throwing overhead? If so, you may be at risk of developing a shoulder injury. Shoulder arthroscopy is an important surgical technique designed to treat an extensive array of shoulder injuries in a minimally invasive way with limited soft tissue damage. Shoulder surgeon, Dr. Jervis Yau performs shoulder arthroscopy for patients in Santa Barbara who have sustained a shoulder injury that requires surgery. Contact Dr. Yau's team today!
An Overview on Shoulder Arthroscopy
Shoulder arthroscopy is a minimally invasive procedure performed by shoulder surgeon Dr. Jervis Yau in Santa Barbara, Goleta, Santa Maria and Ventura, California patients to inspect, diagnose and treat a wide number of shoulder injuries and conditions. During arthroscopic shoulder surgery, Dr. Yau inserts a small camera, known as an arthroscope, into the injured shoulder joint. The arthroscope displays images on a screen very similar to a television so he can guide special surgical instruments into and around the joint to facilitate repair.
Shoulder arthroscopy is a popular procedure all over the world because of its minimally invasive technique. By using very small incisions rather than large incisions associated with a traditional open surgery, patients usually recover more quickly and with less pain.
Dr. Yau and his orthopedic team perform arthroscopic shoulder surgery on an outpatient basis under regional and general anesthesia. The majority of procedures take less than two hours to complete, but certain cases are more complicated and requires longer surgical time.
Shoulder arthroscopy is used to treat a number of shoulder conditions, such as:
Recovery and Rehabilitation Following Shoulder Arthroscopy
Patients will typically recover for 1-2 hours following arthroscopic shoulder surgery. All patients will need someone to drive them home and care for them during the first 24 hours after surgery.
Even though it is a minimally invasive procedure, patients can expect a few weeks for the repaired shoulder joint to heal. While at home recovering, patients are encouraged to apply ice to the affected shoulder to relieve pain and swelling. Patients are encouraged to stay on top of their pain medications especially in the first 2-3 days after surgery. Patients are typically allowed to remove the bandages and shower over their wound 48 hours after surgery. Do not scrub or submerge the wound until approximately 3 weeks after surgery.
Rehabilitation following an arthroscopic shoulder surgery is critical to a patient's overall success. Dr. Yau will prescribe a strict set of guidelines that typically begin soon after surgery. The physical therapy rehabilitation program is aimed at restoring range of motion and strength of the repaired shoulder in a safe and controlled fashion.
For more resources on minimally invasive shoulder arthroscopy, or to learn if you are a candidate for arthroscopic shoulder surgery, please contact the Santa Barbara, Goleta, Santa Maria and Ventura, California office of orthopedic shoulder surgeon Dr. Jervis Yau.