Multi-Ligament Knee Surgeon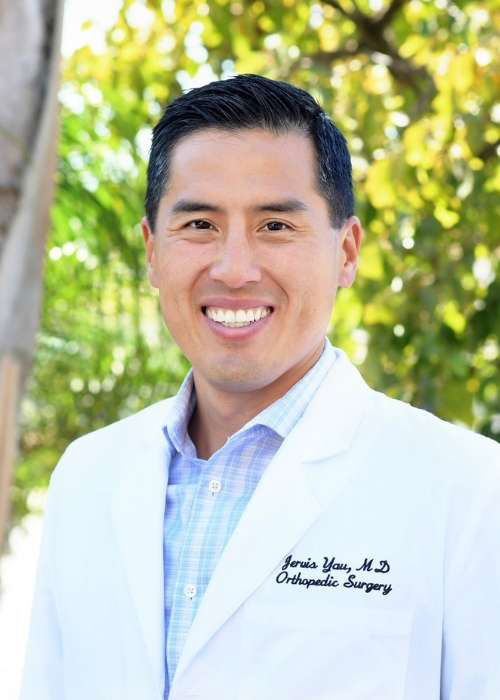 Are you an athlete who participates in contact sports? If so, you may be at risk of sustaining a complex knee injury. When multiple ligaments are injured during a traumatic event, there are certain cases when one ligament can heal without the need of knee surgery while another ligament requires reconstruction. Complex knee surgeon, Dr. Jervis Yau provides diagnosis and both surgical and nonsurgical treatment options for patients in Santa Barbara who have sustained a complex knee injury. Contact Dr. Yau's team today!
What is Multi-Ligament Knee Injury?
A multi-ligament knee injury is a complex injury that involves two or more of the following – anterior cruciate ligament (ACL), posterior cruciate ligament (PCL), medial collateral ligament (MCL), and lateral collateral ligament (LCL) / posterolateral corner. These are inherently unstable injuries and can occur with a knee dislocation.  Most, if not all, of these injuries will need surgery to restore stability to the knee joint. Dr. Jervis Yau, Santa Barbara, Goleta, Santa Maria and Ventura, California area orthopedic knee surgeon, specializes in multi-ligament knee surgery in order to restore function to a severely damaged knee.
What Causes a Multi-Ligament Injury?
High-energy trauma is the most common cause of multi-ligament knee injury. Patients are strongly encouraged to visit a local ER if there is severe pain, instability and swelling after a high-energy injury. Sometimes, these complex injuries can cause damage to the surrounding nerves and blood vessels, which can be devastating if not diagnosed.  A thorough medical review and physical examination, along various diagnostic tests will help determine the severity of the injury.
What is Multi-Ligament Knee Surgery?
The overall goal of multi-ligament knee surgery is to restore stability and function to the knee joint. Dr. Yau strives to perform this procedure in one operation, but there are circumstances where staged procedures must be performed.
Depending on the extent of injury, the torn ligaments can be repaired or reconstructed. With ligament reconstructions, Dr. Yau will remove the damaged tissue and replace it with a new tendon graft. The graft comes in the form of donor tissue (allograft) or native tissue (autograft). Dr. Yau will determine the best graft choice depending on various factors. In many cases, more than one graft may be required to restore stability to a multi-ligament knee injury.
What is the Recovery and Rehabilitation Following Multi-Ligament Knee Surgery?
Recovery from this type of severe injury and complex surgery is often lengthy.  Most patients take nine to twelve months to recover to their full potential.  Some patients may have residual stiffness or subtle instability despite surgical correction.  A brace will be required for the first six to eight weeks after surgery.  Physical therapy rehabilitation program will begin crucial in restoring function after multi-ligament knee reconstruction.  Patients are instructed to follow the rehabilitation instructions carefully throughout their recovery to ensure optimal outcome.
For additional resources on multi-ligament knee surgery, or to discuss the possibility of your knee injury requiring multiple knee ligaments surgery, please contact the office of Dr. Jervis Yau, orthopedic knee surgeon serving the Santa Barbara, Goleta, Santa Maria and Ventura, California communities.