Frozen Shoulder (Adhesive capsulitis) Surgeon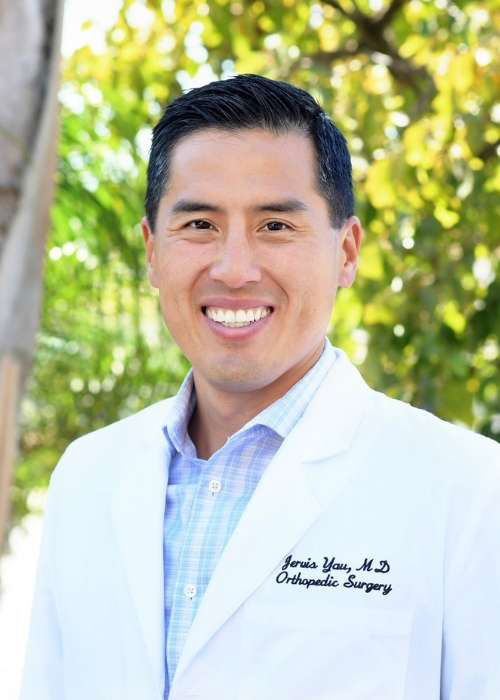 Are you experiencing a stiff shoulder? If so, you may be suffering from a condition known as adhesive capsulitis, also known as frozen shoulder. Frozen shoulder typically affects patients between the ages of 40 and 60 years, and females are much more likely to develop this condition than males. Frozen shoulder specialist, Dr. Jervis Yau provides diagnosis and both surgical and nonsurgical treatment options for patients in Santa Barbara who are suffering from stiff or frozen shoulder. Contact Dr. Yau's team today!
An Overview of Frozen Shoulder Treatment
Adhesive capsulitis, more commonly known as frozen shoulder, is a shoulder condition characterized by gradual joint stiffness and inflammation that causes chronic pain and restricts motion. Frozen shoulder develops over time when the shoulder joint's soft tissues begin to thicken and contract from the formation of scar tissue. The cause is often unknown, but can be a result of injury, overuse, or after surgery. Patients living in the Santa Barbara, Goleta, Santa Maria and Ventura, California area that develop frozen shoulder symptoms are encouraged to call Dr. Jervis Yau, orthopedic shoulder surgeon.  The goal of surgical treatment for adhesive capsulitis is to release the thickened joint capsule in order to improve motion and decrease pain.
How is Frozen Shoulder Treated?
A large majority of patients' who have adhesive capsulitis will improve with non-surgical treatment. Conservative measures, such as anti-inflammatory medications, steroid injections and a strict physical therapy program, are the preferred treatment options. However, if symptoms do not improve over time, Dr. Yau may recommend minimally invasive surgery.
The overall goal of an arthroscopic frozen shoulder treatment is to release the thick joint capsule to facilitate shoulder motion. The most common methods of treatment include manipulation under anesthesia and arthroscopic capsular release.
During manipulation under anesthesia, Dr. Yau will attempt to force the shoulder to move while the patient is asleep in order to break through the scar tissue and allow for motion. This is typically followed by corticosteroid injection post manipulation.
What is a Capsular Release for Frozen Shoulder?
During a shoulder arthroscopy capsular release, Dr. Yau will utilize small incisions around the shoulder to precisely cut through the tight portions of the joint capsule. If a previous shoulder surgery is the cause of scar tissue formation, Dr. Yau typically creates an incision that provides direct access to the previous surgical site. This is because the thickest scar tissue is generally located beneath the surgical incision.
Manipulation under anesthesia and arthroscopic surgery is commonly performed in combination to achieve maximum results.
Recovery and Rehabilitation Following Arthroscopic Frozen Shoulder Treatment
Immediately after an arthroscopic capsular release, a physical therapy program will be initiated by Dr. Yau to maintain the motion achieved from surgery. Recovery is usually a slow and steady progression with recovery times ranging from six weeks to three months. A patient's commitment to the physical therapy program is the most important factor in restoring function to the shoulder.
For additional information on frozen shoulder treatment, or to determine if you are a candidate for arthroscopic adhesive capsulitis surgery, please contact Dr. Jervis Yau, orthopedic shoulder surgeon serving the Santa Barbara, Goleta, Santa Maria and Ventura, California communities.