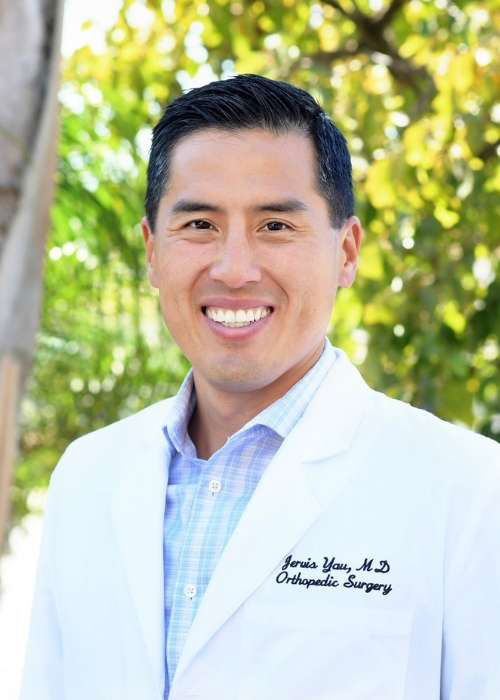 Are you an athlete who participates in sports that involve running and jumping? If so, you may be at risk of tearing your meniscus. A meniscus tear can occur due to a traumatic event or degeneration. Meniscus surgeon, Dr. Jervis Yau provides diagnosis and both surgical and nonsurgical treatment options for patients in Santa Barbara who have sustained a meniscus injury. Contact Dr. Yau's team today!
What is Arthroscopic Meniscus Surgery?
The knee is composed of a number of important structures, including the meniscus. The meniscus is a form of tough, rubbery cartilage that serves as a "shock absorber" between the tibia (shinbone) and the femur (thighbone). The two wedge "c" shaped pieces of cartilage can sustain damage from repetitive overuse, degeneration from aging, or an injury. A torn meniscus can cause pain, swelling, catching and locking symptoms of the knee.  Meniscus tears may require arthroscopic meniscus surgery to restore function and diminish pain in the knee.  Santa Barbara, Goleta, Santa Maria and Ventura, California orthopedic knee surgeon, Dr. Jervis Yau is available to help patients suffering from meniscal pathology.
The overall goal of meniscus surgery is to improve knee function.  Repairing a torn cartilage can decrease the risk of developing future osteoarthritis.
Do I Need Meniscus Surgery?
Dr. Yau will perform a thorough physical examination and use various diagnostic tests to determine the precise location and pattern of the tear. If the MRI scan displays a stable tear, Dr. Yau will likely recommend conservative treatment modalities including rest, activity modification and physical therapy. Minimally invasive surgery aimed at repairing or debriding the torn meniscus is recommended for larger unstable tears that generally do not respond well to nonoperative treatment.
How is Meniscus Surgery Performed?
Commonly, Dr. Yau will perform partial meniscectomies in patients with symptomatic tears that are not amenable to repair based on location or tear pattern. Dr. Yau will carefully remove damaged or unstable meniscal tissue while protecting as much of the native meniscus as possible.
Arthroscopic meniscal repair are typically performed for larger, peripheral tears where there is adequate blood supply for repair. During these procedures, Dr. Yau will place strong sutures through the tear in order to repair and stabilize the tear.
How Long is the Recovery and Rehabilitation After Meniscus Surgery?
Patients who undergo a partial meniscectomy are generally allowed to bear weight as tolerated with crutches within the first few days after surgery. Physical therapy will be prescribed to control post-operative swelling, restore range of motion and strength within the first week after surgery.  Generally, full recovery is estimated at four to six weeks post surgery.
Recovery after arthroscopic meniscal repair will take longer.  Patients will often be placed in a brace with protected weight bearing for four to six weeks. Physical therapy will be initiated, but limited in the first few weeks due to the repair. Return to sports after meniscal repair is typically around twelve to sixteen weeks post surgery.
For additional information on meniscus surgery, or to determine if you are an ideal candidate for surgical torn meniscus treatment, please contact Dr. Jervis Yau, orthopedic knee surgeon serving the Santa Barbara, Goleta, Santa Maria and Ventura, California communities.