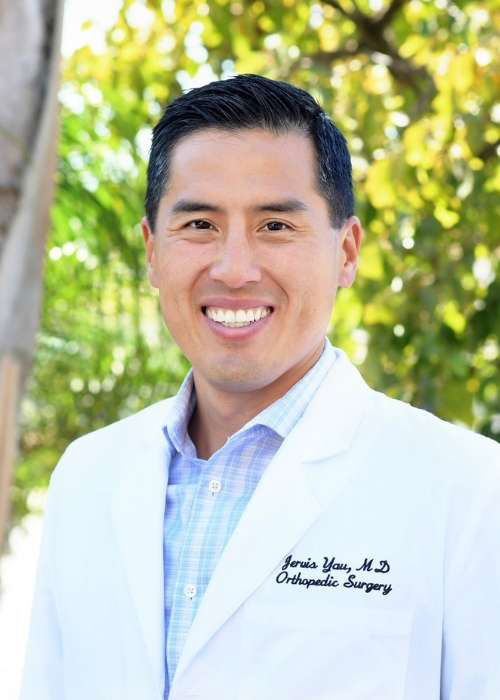 Are you experiencing pain in your knee? If so, you may be a candidate for a knee arthroscopy procedure. Arthroscopic knee surgery is used to both diagnose and treat a variety of knee injuries. Knee surgeon, Dr. Jervis Yau provides diagnosis and both surgical and nonsurgical treatment options for patients in Santa Barbara who have developed knee pain. Contact Dr. Yau's team today!
An Overview on Knee Arthroscopy
Arthroscopic knee surgery is a popular minimally invasive procedure that allows Dr. Jervis Yau, orthopedic knee surgeon, a clear view of the knee's interior so he can diagnose and treat a wide variety of knee injuries and conditions. Knee arthroscopy involves the use of a tiny camera, known as an arthroscope, along with small surgical instruments to repair injured ligaments, cartilage, tendons and other structures within the knee joint. Patients living in the Santa Barbara, Goleta, Santa Maria and Ventura, California area undergoing a knee arthroscopy procedure can expect a quicker return to normal activities with less pain compared to traditional open surgery.
Dr. Yau utilizes minimally invasive surgery to treat a number of knee conditions. Dr. Yau will begin an arthroscopic procedure by creating small poke-hole incisions in order to inspect the knee joint with the arthroscope. Injuries that are visualized can then be repaired through use of special arthroscopic instruments.
Dr. Yau commonly performs arthroscopic knee surgery to treat the following knee conditions:
Knee arthritis
Certain fractures within the knee joint
Recovery and Rehabilitation Following Knee Arthroscopy
Almost all arthroscopic knee surgeries are performed on an outpatient basis under local, regional or general anesthesia. Even though recovery is much quicker with a minimally invasive approach compared to an open surgery, patients should still expect to take some time to recover. It is critical patients follow Dr. Yau's rehabilitation guidelines once at home.
Patients will experience some degree of knee pain, swelling and discomfort in the repaired joint following knee arthroscopy. The use of ice packs, prescribed pain medications and anti-inflammatory medications (NSAIDs) will help alleviate the level of general discomfort during recovery.
Dr. Yau and his orthopedic team will apply a dressing to cover the repaired knee following surgery. It is important patients keep the incisions clean and dry until Dr. Yau allows for removal of dressing for showering and bathing.
A physical therapy rehabilitation program will be prescribed immediately following arthroscopic knee surgery to prevent stiffness and allow for early recovery of strength and function. The rehabilitation program must be followed exactly as prescribed since it is critical to a successful outcome. Patients will be required to use crutches until weight bearing is progressed by Dr. Yau.
To learn more about arthroscopic knee surgery, or to determine if you are a candidate for minimally invasive knee arthroscopy, please contact Dr. Jervis Yau, orthopedic knee surgeon in the Santa Barbara, Goleta, Santa Maria and Ventura, California area.